Phil Andrews - Percussionist, Steel Drummer & Teacher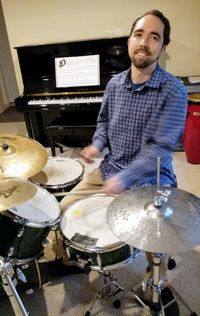 Phil Andrews is a professional percussionist, steel drummer, and teacher based in Worcester, Massachusetts. He has been playing and teaching drums, percussion, and steel drums for over fifteen years.
Phil holds both a Masters and Bachelors degree in Percussion Performance from the College-Conservatory of Music and the Hartt School of Music, where he was a recipient of the Alexander Lepak Memorial Scholarship. His main teachers include Benjamin Toth, James Culley, and Pieter Struyk. He also was fortunate enough to study various other aspects of contemporary, jazz, and ethnic percussion with Russell Burge, Allen Otte, Alexander Lepak, Rogerio Boccato, Shane Shanahan, David Samuels, and Joe Galeota.
Since 2009, Phil has been actively performing in a variety of musical genres. He can often be seen performing with local symphonies in MA and CT, as well as playing percussion and drum set for several musical theater productions per year, including regular appearences with Calliope Theatre, Claflin Hill Symphony Orchestra, and the Pioneer Valley Symphony Orchestra. 
Phil is also one of the area's most in-demand steel drum players. He started playing the steel drums back in 2003 while attending the Hartt School, and has since developed a love and passion for all things steelpan related. Since 2012, he has been playing his steel drums for the nationally acclaimed Jimmy Buffett tribute show, Changes In Latitudes. (www.changesinlatitudes.com) With this band, Phil performs for audiences all across the Northeast and beyond, bringing Buffett's tropical rock sounds to events all over the country. Phil is also the founder, manager, and main steel drummer for his own group, Steel Accent. (www.steelaccent.com) Founded in 2009, Steel Accent is a group dedicated to bringing the sounds of the Islands to events all across New England. With this group, Phil performs for concerts, corporate events, weddings receptions, and parties in MA, RI, CT, NH, VT, and Cape Cod and the Islands.           
As an educator, Phil enjoys sharing his passion for music with students of all ages and backgrounds. He offers private lessons on drum kit, concert percussion, mallet percussion, and timpani. Phil's goal is to develop a fundamental understanding and enjoyment of music with his students. As someone who was turned on to music at a young age through piano lessons, drum lessons, and school bands and ensembles, Phil believes that music education is absolutely necessary today, whether it is for casual enjoyment or more serious studies. He believes that music is essential in the education of young people, and is the single most rewarding and joyful activity that a person can do in life.